SLG Impact
In addition to providing unrivaled experience and personalized service, Amy and her team have made giving back to the community a cornerstone for Stewart Law Group. The SLG Team is committed to paying their good fortune forward. They are dedicated to addressing women and minority issues head-on through the firm's philanthropic initiative, SLG Impact.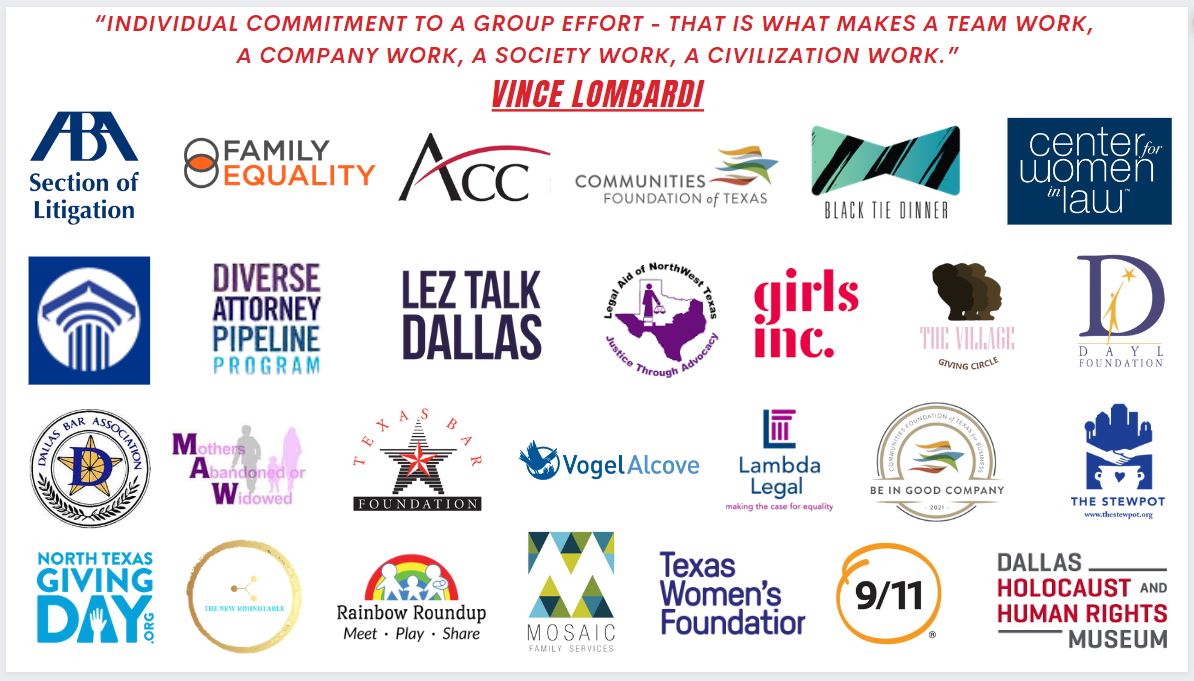 "With SLG Impact we've put volunteerism at the forefront of the many ways we give back," said Amy M. Stewart. "Our team has donated 100s of hours to support organizations, especially ones committed to helping women and children. Frankly, we are the true beneficiaries because we learn so much from them."
SLG supports multiple organizations within the Dallas/Fort Worth community and nationally, including the American Bar Association Litigation Section, Association of Corporate Counsel, Black Tie Dinner, Center for Women in Law, Communities Foundation of Texas, CFT's Be in Good Company, Dallas Association of Young Lawyers, Dallas Bar Association, Dallas Volunteer Attorney Program, Diverse Attorney Pipeline Program (DAPP), Family Equality, Lambda Legal, Legal Aid of NorthWest Texas, Lez Talk Dallas, Mosaic Family Services, Girls Inc.,  Mothers Abandoned or Widowed, The New Roundtable, North Texas Giving Day, Rainbow Roundup, The Stewpot, Texas Bar Foundation, Meal Packs – 9/11 Day, Texas Women's Foundation, The Village Giving Circle, and Vogel Alcove.
"When we brainstormed about the legacy we wanted to create, aside from being yet another law firm, we knew we wanted to be a responsible corporate citizen," said Amy. "We feel incredibly privileged to have overcome our own obstacles and we see it as our responsibility to give back by supporting people from all walks of life."